Holly's 29th Birthday Surprise
When my wife Holly celebrated her 29th birthday, we had known each other for almost ten years. I'm always on the lookout for a fun way to show her just how much I love her. I found a good one that time, and many friends of mine wished to learn how it turned out. This is the story.
---
It began over lunch.
It was our manager's-treat employee lunch at the St. Paul Hotel in (where else?) St. Paul, Minnesota. The discussion at our table had moved to cats, and centered upon stories of a bed & breakfast which offered you a cat for your room. Since my wife's birthday was approaching, and we both love cats, I stirred up the conversation, trying to get more information.
Unfortunately, none of my companions had visited this bed & breakfast, and no one could recall the name. One woman knew a friend who had visited there many years before, and promised to call once we got back to the office.
While I waited for the phone call, I started Netscape and begin searching Yahoo for any lists of bed & breakfast inns on the World Wide Web. I didn't have much luck; the Web is still a far cry from a good phone book. [At least it was in 1996! -Jacob] The call was made, and from that call, I learned a name and a location: The Anderson House in Wabasha, Minnesota.
After some confusion about area codes (Minnesota was undergoing one of those additions in area codes so popular these days), I was able to get a phone number, and contacted the Anderson House. Yes, they had cats with the rooms. Yes, they had rooms free for my wife's birthday weekend. And yes, they took the credit card on which I had the most credit. (I heartily recommend checking credit before engaging in one of these surprise binges. After all, the surprise isn't intended for yourself!)
With the assistance of Sondra, the manager on duty, I was able to book the Mayo Suite -- a corner room with a sitting area, bedroom, and private bathroom -- for two evenings. The furniture and fixtures were all antiques. Sondra asked if this was a special occasion, and when I explained, she suggested the addition of champagne and flowers. Holly is no fan of champagne, so we decided upon a nice white wine. Later, I called to confirm these arrangements and added a chocolate cake to be served at dinner. All the necessary transactions were performed, and I was almost set.
The next thing was to tell Holly.
Not everything, for that would spoil the surprise. But enough, so she wouldn't have conflicting plans. The straightforward method was the simplest: I called her and said "Take the Monday after your birthday off, and don't make any plans for that weekend."
Everything else was in the details. Who would watch our cats while we were gone? How would that person get into our apartment? How could I drive down to Wabasha without Holly getting suspicious? When would I pack clothes for her and myself without her noticing that clothes (or a suitcase) were missing?
And, most important of all, how would she -- the sports fan of the pair -- feel about spending Super Bowl weekend in a place that may not have a television set handy?
Details, details.
The week before we were to leave, I was able to purchase a large bag and enough of the appropriate toiletries to last the weekend. Clothing wasn't a problem, since the laundry needed to be done -- I always do the laundry, so I was able to wash everything one night, and pack it away the next morning after Holly left for work. My friend Jordan would watch the cats, and he could get a key from the management office.
In addition to these necessities, I purchased a new, cotton nightgown from Victoria's Secret (her older one was getting worn), and I also acquired some chocolates. To round things off, I bought a pair of those one-use flash cameras with which to record the weekend.
I had two items remaining: How to get prescription medicine along without her missing it, and how to head in that direction without arousing suspicion.
The medicine turned out to be easy. I was in the process of extending my wear time for semi-rigid contact lenses. Since purchasing them, I have asked Holly to carry in her purse a small case with fluids and a container for the lenses. There was ample room in the case to hold the pills.
And going on the trip to Wabasha proved to be easier still. Holly loves long drives in the country, and a good portion of the route to Wabasha runs along the Mississippi river. So the planned itinerary was for me to get a haircut that morning (thus the contact lenses -- I hate removing my glasses for a haircut), then do a little shopping for a CD she wanted, followed by a scenic ride in the country.
All was set. Holly grew a little curious, and started asking questions.
"Will I need to pack anything?" No.
"Will I be able to make it to a party Monday evening?" I hoped so, since we would have to work Tuesday morning.
"Will I be able to sing in my choir Sunday morning?" I had no intention of letting her out of bed that early.
And so, the big weekend came. Friday night I was able to place the bag in the back of the wagon and cover it with the obligatory winter season survival quilt. Saturday I put in my contacts, got my haircut, and then we went shopping. We then went for the anticipated ride.
The snow had fallen the night before, so everything was still white. The sun was out, so it was a sparkling day. We had purchased the tape version of the CD as well, and listened to that. Holly was one happy camper.
We came to Wabasha, a pretty little river town, but we were too early! I kept on driving, and didn't turn around until the time specified as the earliest we could arrive and still be assured that the flowers and wine were in the room. The road into Wabasha also went to Wisconsin, and we had talked of driving back up on the other side of the river. Taking this road through Wabasha was therefore a natural thing to try.
Except that I hadn't been in Wabasha before.
So I got lost.
I ended up crossing the bridge to Wisconsin, because I didn't see my turn for the Anderson House. I then turned about when we were on the other side, this second switchback pushing Holly a little closer towards the irate side. Coming back, I saw the tower of the hotel, and knew which way I had to go. I pulled up in front, stopped the car, and asked her if she was getting out.
"We're staying?" she asked, incredulously.
"Yes," I replied. "This is a bed & breakfast. We have a room for two nights." I popped the hatch, got the bag, and we went inside.
Boy, was she surprised.
We got our keys, and headed up to the room. It was beautiful. She loved it.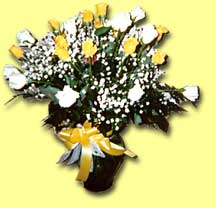 Then she saw the flowers: twenty-nine roses, yellow and white ones, with some baby's breath and fern fronds. They were beautiful. She loved them.
I produced the chocolates: her favorite, the chocolate-covered, caramel-pecan candies some call turtles. They were tasty. She loved them.
Then she turned to practical matters: "What about my pills?" "Give me my contact lens stuff," I responded. She did, and I produced the prescription drugs. At this, she could relax, and gave me a big hug.
She called me all sorts of things; clever and sneaky were in the list.
And there was a television set in the room. At least I wouldn't have to distract her from the Super Bowl.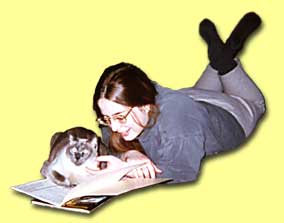 The first night was wonderful. We selected a cat (Tom-Tom, very friendly, but likes to sleep beneath the covers), and while Holly took a nap with him I did some shopping for things I had forgotten, like socks for myself. Then there was dinner downstairs, and the food was exceptional, the service smart and friendly.
Then a surprise for me: the cake showed up that night, instead of Sunday. But no matter, they kept it for us. Good thing, too, since we were stuffed.
Back at the room, we enjoyed the waters in the antique bathtub. Then sleep.
Sunday morning, breakfast was as good as dinner the night before. There was more soaking in the tub. We returned the cat to his companions. We spent some time in the afternoon driving about and visiting the towns nearby. Being fans of the Little House on the Prairie series of books, we were happy to see that Pepin was only a few miles away, but were disappointed to find the museum closed. (Laura Ingalls Wilder grew up in the Big Woods of Wisconsin near Pepin.)
Holly took a nap while I conversed with Cindy, the manager on duty. When Holly came down, fully refreshed, we retired to the bar in the basement, where the Super Bowl was being shown on big-screen TV. Holly was happy. We played a couple of games of darts, and a few hands of canasta, then went to dinner.
Dinner that evening was excellent, as expected. If you are ever hungry, and near Wabasha, you must go to the Anderson House to eat. But be sure that you are really hungry.
That night we slept on the floor a little. The steam radiators are very effective, and anything a couple feet off the floor was quite warm. I cracked a window, and found a comfortable biome at the foot of the bed. When things had cooled, we returned to the sheets.
Monday mornings the Anderson House isn't open for breakfast. We left our keys in the room, loaded up the car, then checked out and headed for home. We both had a lovely time, and we intend to go back. Often during the trip, Holly remarked on how fortunate she was, and how much she loved me. Such words do a man's soul good.
Did I ever give the secret away? Almost. The Publisher's Clearing House Sweepstakes for the $10,000,000 prize were to be awarded after the Super Bowl. Like many other enthusiasts, I had entered. One night a couple of weeks before the weekend, Holly made a comment about winning the sweepstakes. I said "How would you know, since we'll be in Waba--wawawa." She started laughing, knowing that I had almost given it away, but didn't dwell on the clue.
It was a great weekend. And it was a great way to show her I loved her.
Of course there was love-making somewhere during all this, but you don't expect me to tell you everything, do you?